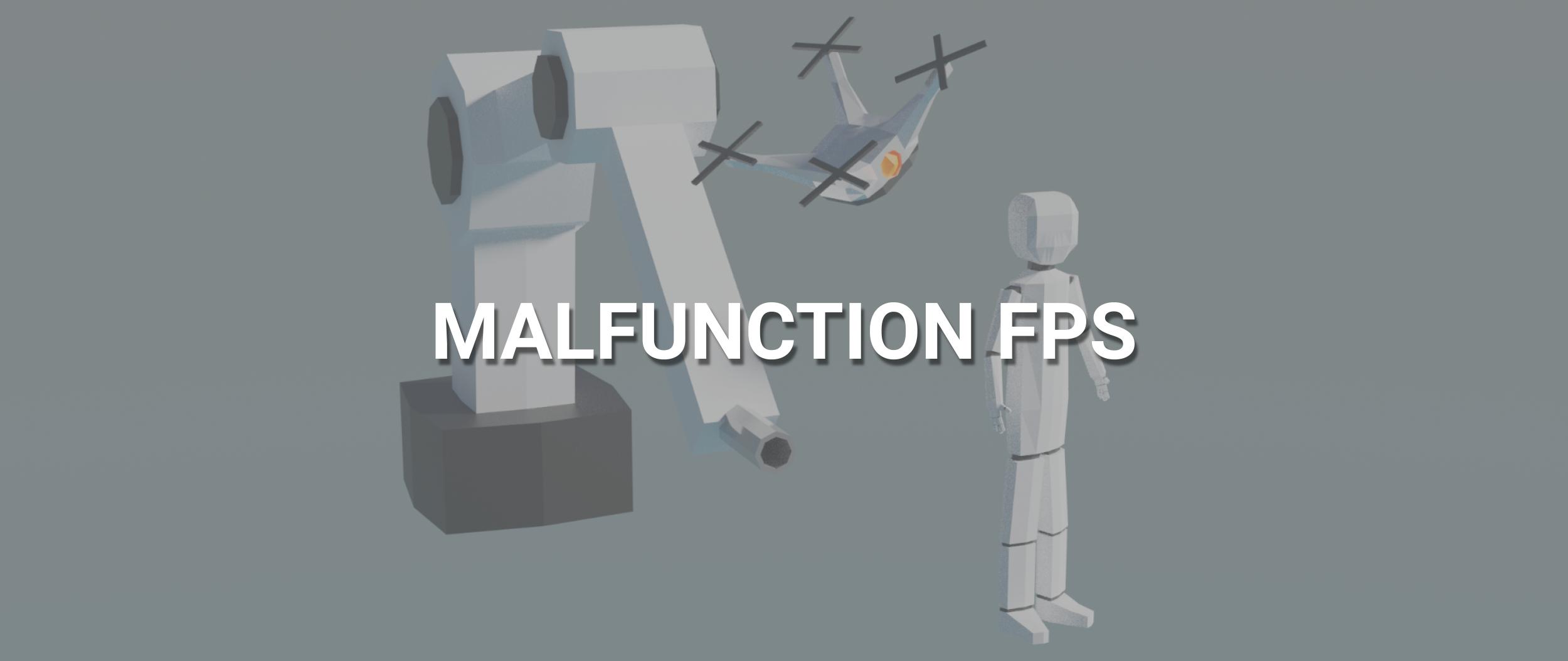 MALFUNCTION V0.02
MALFUNCTION FPS
NOTE: NEW VERSION HERE
In MALFUNCTION, your job is to defeat the robots and escape the robots to get to a door at the end of each level.
CHECK OUT MY FRIEND'S VID

Enemies
Humanoid robot

Humanoid robot has a pistol, can move anywhere except for moving off ledges and onto lava. They move at a medium speed. They shoot at a medium speed at you at only one axis.

Robot arm

Robot arms are enemies found at the end of each level. They can shoot very fast, and they rotate towards you at only one axis. They have 1000 health each and to pass a level, you must defeat it. Cannot move anywhere.

Drone

Drones are enemies found after the first level that fly around, over lava and off ledges to shoot at you at every single axis. They shoot slowly and are killable with one shot of a gun.
Weapons
Rifle

The rifle shoots fast, but it is weakest of all.

Pistol

The pistol shoots at a medium speed, and enemies have faster pistols. They deal the same damage as the rifle.

Revolver

The revolver shoots at a slow speed, but it does more damage than the pistol and rifle.
Sniper rifle

The sniper rifle shoots at a slow speed, but does lots of damage.
Arm cannon

The arm cannon is used by the robot arm boss, and shoots fast. It is unobtainable by the player

Drone laser

The drone laser shoots slow but rotates itself at any target. It is unobtainable by the player.
Controls
WASD to move front, left, back, and right.
Space to jump.
Esc to pause.
Right click to scope.
Scroll and 123 keys to switch weapon.
V0.0.2 changes and additions
Added robot arm boss and door system for passing levels.
Added second level.
Added drone enemy.
Fixed minor bugs on pause menu and scope.
Looked through previous suggestions and did some.

Recoil.
Bugs that were found.
Just so the people don't get mad, let me make this clear: the wall run cam tilt suggestion was not done because I wanted it to be more of a climb than wall run.
Download
Click download now to get access to the following files:
MALFUNCTION_WIN_V0.02.zip
25 MB
MALFUNCTION_MAC_V0.02.zip
35 MB
MALFUNCTION_LINUX_V0.02.zip
40 MB
Also available on